---
Efficacy Of Closed Incision Negative Pressure Therapy In The Vascular Quality Initiative
Maxwell T. Tulimieri
1
, Peter A. Callas, PhD
2
,
Daniel Bertges, MD
2
.
1
University of Vermont Larner College of Medicine, Burlington, VT, USA,
2
University of Vermont Medical Center, Burlington, VT, USA.
Objective To analyze surgical site infections (SSI) after infrainguinal bypass for standard dressings versus closed incision negative pressure therapy (ciNPT) in the Vascular Quality Initiative (VQI).Methods We retrospectively analyzed SSI after infrainguinal bypass in the VQI from December 2019 to July 2021 comparing ciNPT (N= 1,027) and standard dressings (N=5,667). The primary outcome was any SSI (superficial and/or deep) at 30-days in ciNPT (N=267) and standard dressing groups (N=871). Secondary outcomes included in-hospital SSI, re-operation for infection and length of stay (LOS) and non-infectious wound complications (dehiscence, necrosis, hematoma, seroma or lymph leak) at 30-days. Outcomes were analyzed by logistic regression. Results Patients who received ciNPT had a higher incidence of diabetes (p=0.002) and prior revascularization and use of prosthetic grafts (p<0.001). In-hospital SSI was similar for standard and ciNPT dressings (2% vs. 3%, OR 1.05, 95% CI 0.69-1.60, p= 0.83). Reoperation for infection was uncommon and similar for the standard and ciNPT groups (1% vs. 1%, adjusted odds ration [OR] 1.73, 95% CI 0.94-3.21, p= 0.08). LOS was similar between groups (8.5 vs. 8.9 days, P= 0.75). There was no difference in overall 30-day SSI between the standard and ciNPT dressings (6% v. 3%, adjusted OR 0.52, 95% CI 0.25-1.08, p= 0.08). Overall non-infectious wound complications were similar for the standard and ciNPT groups (4% vs. 3%, adjusted OR 0.79 (95% CI 0.37-1.70, p= 0.55).Conclusion In this analysis of a multi-center registry, in-hospital and 30-day SSI after infrainguinal bypass was similar in the patients receiving ciNPT compared to standard dressings. Further longitudinal data from such real world data sources is needed to determine the utility of ciNPT for infrainguinal bypass in high risk groups.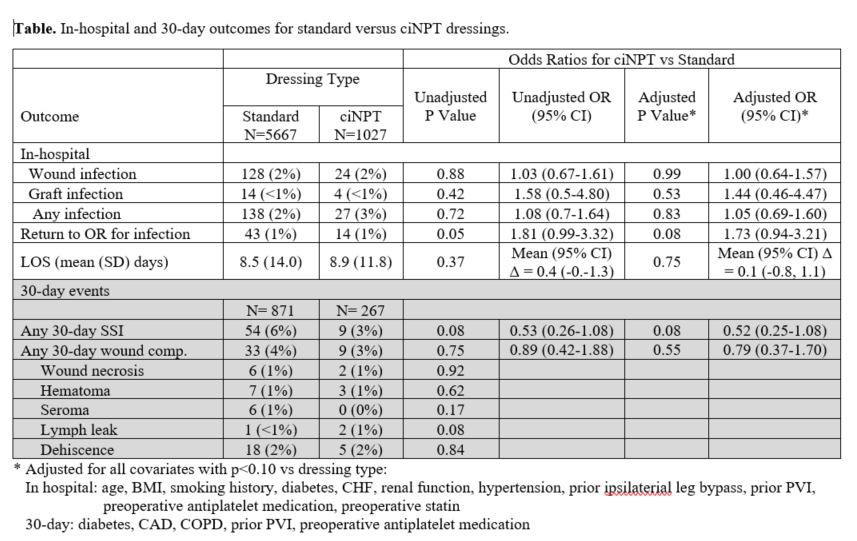 ---
Back to 2022 Karmody Posters