---
Quantification Of Perfusion In Peripheral Arterial Disease Using FLIR(R) Thermal Imaging
William Patrick Roush
, Madelaine Behrens, BS, Hasanain Osamah Al-Sadr, MSc, Mihail Popescu, PhD, Todd Rudolph Vogel, MD, Kay Broschat, PhD, Amiad Fredman, MD, Jonathan Bath.
University of Missouri, Columbia, MO, USA.
Objective: Peripheral arterial disease (PAD) is currently evaluated with clinical examination, duplex and ankle-brachial indices (ABI). These are very limited, however, when evaluating wound healing potential. We describe the use of thermal imaging to assess wound perfusion following interventions for PAD. Methods: Patients undergoing PAD procedures were enrolled prospectively. Thermal imaging and color photos were undertaken pre- and post-intervention using a FLIR E95 Infrared camera. Correlation of the thermal profile with the ABI was analyzed by regression modeling. Results: Twenty patients were enrolled (male 71%) with mean age of 65 (± 9.6) with claudication in 4 (20%), rest pain in 11 (55%) and tissue loss in 5 patients (25%). Endovascular procedures were performed in 14 patients (70%); 29% multilevel, 50% femoropopliteal and 21% iliac. Bypass was performed in 4 (20%) with hybrid procedures in 2 patients (10%). Comparison of pre- with post-intervention temperature profiles demonstrated global increase following revascularization (mean temperature [Tm] 30.9 vs. 32.5°C; p = 0.00008). Regression modeling demonstrated high correlation (mean R-Squared of 0.83) between ABI and temperature profile. Thermal imaging demonstrated a potential advantage over ABI for detection of regional perfusion deficits. Figure 1A highlights a 67-year-old man for TMA wound with ABI of 0 and Tm of 24.5°C. Figure 1B demonstrates follow-up at 6 weeks after multilevel angioplasty, with ABI of 0.8 but demonstrating a Tm of 27.4°C over the wound suggestive of poor wound perfusion. In contrast, Figure 1C highlights an 80-year-old man with great toe wound and ABI of 0.32 with Tm of 28.4°C. Figure 1D shows the thermal profile after femorotibial bypass with Tm of 34.3°C over the healed toe and an ABI of 0.92. Conclusions: FLIR® thermal imaging provides immediate, simple and reliable quantification of perfusion with positive predictive correlation with ABI. In cases of poor wound healing, however, thermal imaging has distinct advantages over ABI in identifying poor regional perfusion. This ability to detect poor perfusion can influence clinical decision-making, signaling the need for prompt repeat or alternative revascularization procedures. A larger clinical trial is planned to evaluate the specific role for wound healing and in-home surveillance following revascularization procedures.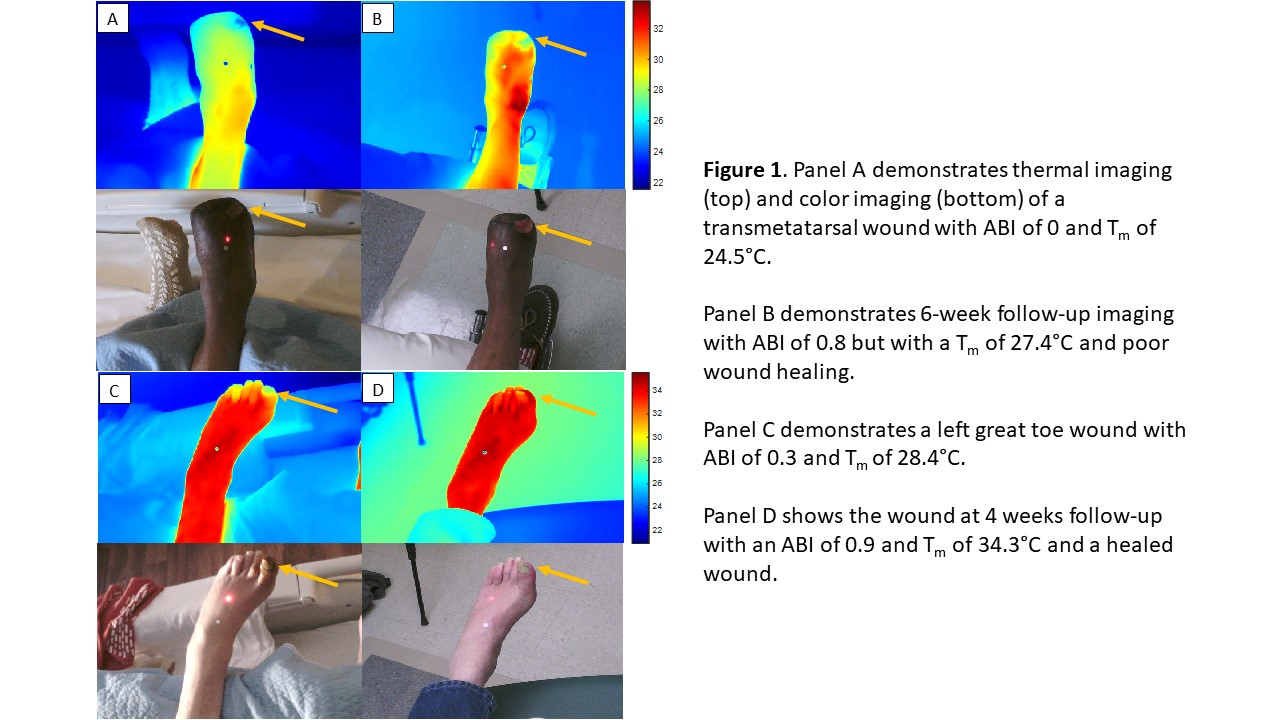 ---
Back to 2022 Karmody Posters