---
Current Landscape Of Mobile Device Applications For Vascular Specialists
Maxwell Tulimieri
1
, Joan Skelly, MS
2
, Daniel J. Bertges, MD
2
.
1
University of Vermont Larner College of Medicine, Burlington, VT, USA,
2
University of Vermont Medical Center, Burlington, VT, USA.
Objectives While the availability of medical mobile device applications has expanded significantly, their quality, accuracy and utilization remain difficult to measure. We performed a search of mobile applications for vascular specialists and analyzed two high quality applications. Methods We performed a comprehensive, English language review of applications on two major smartphone platforms using 25 keywords. The quality of the applications was evaluated by four criteria: relevance to vascular specialists, endorsement by a professional society, references to a peer reviewed publication, and user ratings. We analyzed the utilization of two vascular related applications, (1) Calculate by QxMD, including thirteen Society for Vascular Surgery Vascular Quality Initiative (VQI) risk calculators and two cardiac risk calculators, and (2) the SVS Guidelines application. Monthly usage and utilization by specialty was examined. Results We identified 366 applications in the Apple App and Google Play Stores. A large portion of the applications (n=341) were not targeted to providers or unrelated to vascular disease, leaving 25 applications. Of these, 17 had some level of academic or societal support. The applications focused on risk calculation (n=10), education (n=5), multiple categories (n=4), clinical scoring systems (n=3), vascular nursing (n=2), or wound healing (n=1). Total usage of VQI calculators on QxMD was 49,622, averaging 1,838/month from April 2019- June 2021. Applications for cardiac risk stratification (44%) and carotid stenosis (27%) were the most used VQI calculators. Applications for cardiac risk assessment by total users were the Revised Cardiac Risk Index (726,662), Gupta Perioperative Cardiac Risk Calculator (624,293), and the VQI Cardiac Risk Indexes (21,815). All other VQI QxMD applications had between 678 and 7,953 uses. Vascular surgeons utilized the VQI the most (4,813), cardiology had the greatest number of users (1,461), and vascular surgeons had the highest proportion of usage by specialty (15%) (Figure). Usage of SVS Guidelines was 5,862 from January- May 2021. The most used SVS application was the SVS Threatened Limb Classification System, (3,276, p <0.001). Conclusion The landscape of mobile device applications for vascular surgery is broad and unchartered, but highly utilized. Only a small proportion of resulted applications contained relevant, verifiable information for physicians.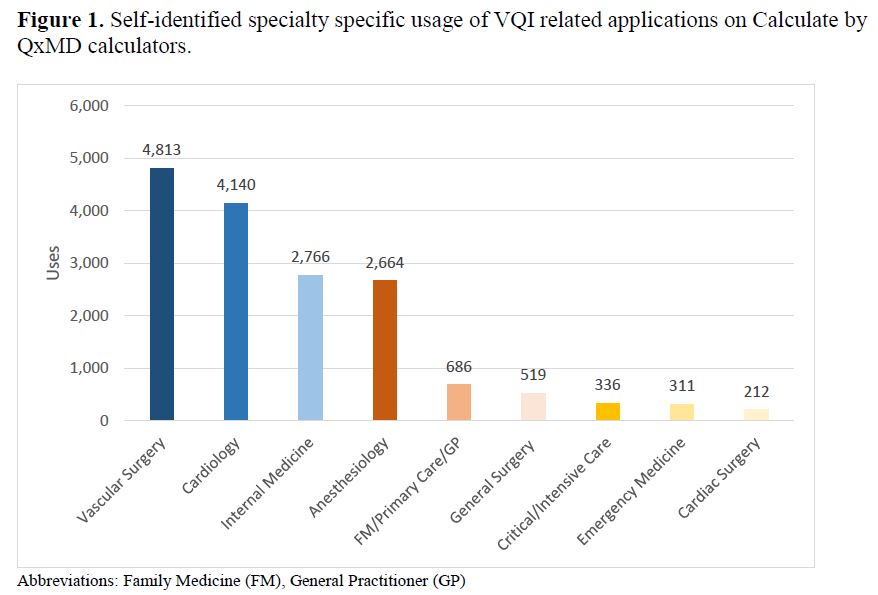 ---
Back to 2022 Karmody Posters