---
Factors Associated With Outcomes Of TEVAR In Acute & Subacute Dissection
Abhishek Devaguptapu Rao, BA/BS
1
, Ambar Mehta, MD MPH
1
, Priya Patel, MD MPH
2
, Danielle Bajakian, MD
1
, Nicholas Morrissey, MD
1
, Karan Garg, MD
3
, James Iannuzzi, MD MPH
4
, Jeff Siracuse, MD MBA
5
, Marc Schermerhorn, MD
6
, Hiroo Takayama, MD PhD
1
, Virendra Patel, MD MPH
1
.
1
Division of Cardiac, Thoracic, and Vascular Surgery, NYP-Columbia University Medical Center, New York, NY, USA,
2
Division of General Surgery, Rutgers-Robert Wood Johnson Medical School, Brunswick, NJ, USA,
3
Division of Vascular and Endovascular Surgery, NYU School of Medicine, New York, NY, USA,
4
Division of Vascular Surgery, U California San Francisco School of Medicine, San Francisco, CA, USA,
5
Division of Vascular and Endovascular Surgery, Boston University, Boston, MA, USA,
6
Division of Vascular and Endovascular Surgery, Beth Israel Deaconess Medical Center, Boston, MA, USA.
Objective(s):
The use of TEVAR to treat patients with both uncomplicated and complicated acute Type B aortic dissections (tB-Ad) continues to rise, yet there exists limited national data evaluating outcomes and predictors of adverse events. We used prospectively collected data from the Vascular Quality Initiative (VQI) to evaluate the presentation and clinical features of acute aortic dissections as well as outcomes following repair.
Methods:
We queried the VQI database (2011-2020) for patients undergoing TEVAR for acute (<2 weeks) and sub-acute (2-12 weeks) tB-Ad, dichotomizing patients into uncomplicated versus complicated (visceral malperfusion, rupture, increased aortic size) dissections. Outcomes included 30-day mortality, peri-op complications, and three-year survival. Risk adjusted analyses were performed using logistic regression clustering by center and Cox proportional hazard regression.
Results:
Of 1127 patients treated for tB-Ad, 44% had complicated dissections (malperfusion 29%; rupture 8.8%; expansion 7.0%). Complicated dissections required more visceral vessel incorporation (3.0±2.5 v. 4.1±1.9, p<.01), and arm or neck access (19% v. 15%, p=.02). Complicated dissections had higher unadjusted rates of 30-day mortality (14% v. 5.7%, p<.01), peri-operative spinal ischemia (11% v. 3.6 %; p<.01), stroke (7.9% v. 4.1%; p<.01), peri-operative dialysis (5.9% v. 1.0%; p<.01), and higher 30-day reintervention (19% v. 8.9%, p<.01). Furthermore, complicated dissections had lower three-year survival (75% v. 81%, log-rank p<.01). Multivariable analyses demonstrated complicated dissections were independently associated with higher odds of 30-day mortality (OR 1.7 [95%- CI 1.0-2.8], P=.01) and peri-op complications (OR 1.6 [1.2-2.2], P<.01). Factors associated with decreased three-year survival included emergent repair (HR 2.5 [1.6-3.9], P<.01), severe CKD (OR 3.4 [1.9-6.0], P<.01), and CAD (HR 2.0 [1.4- 3.0], P<.01).
Conclusions:
These data present contemporary results of TEVAR for tB-Ad, showing excellent mortality and morbidity for both uncomplicated and complicated presentations as compared to prior reports of medical and surgical therapy. In light of these findings, and the risk of late aortic-related mortality shown in the literature, early aggressive intervention with TEVAR remains a necessity for complicated presentation and should be strongly considered in patients with acute uncomplicated tB-Ad.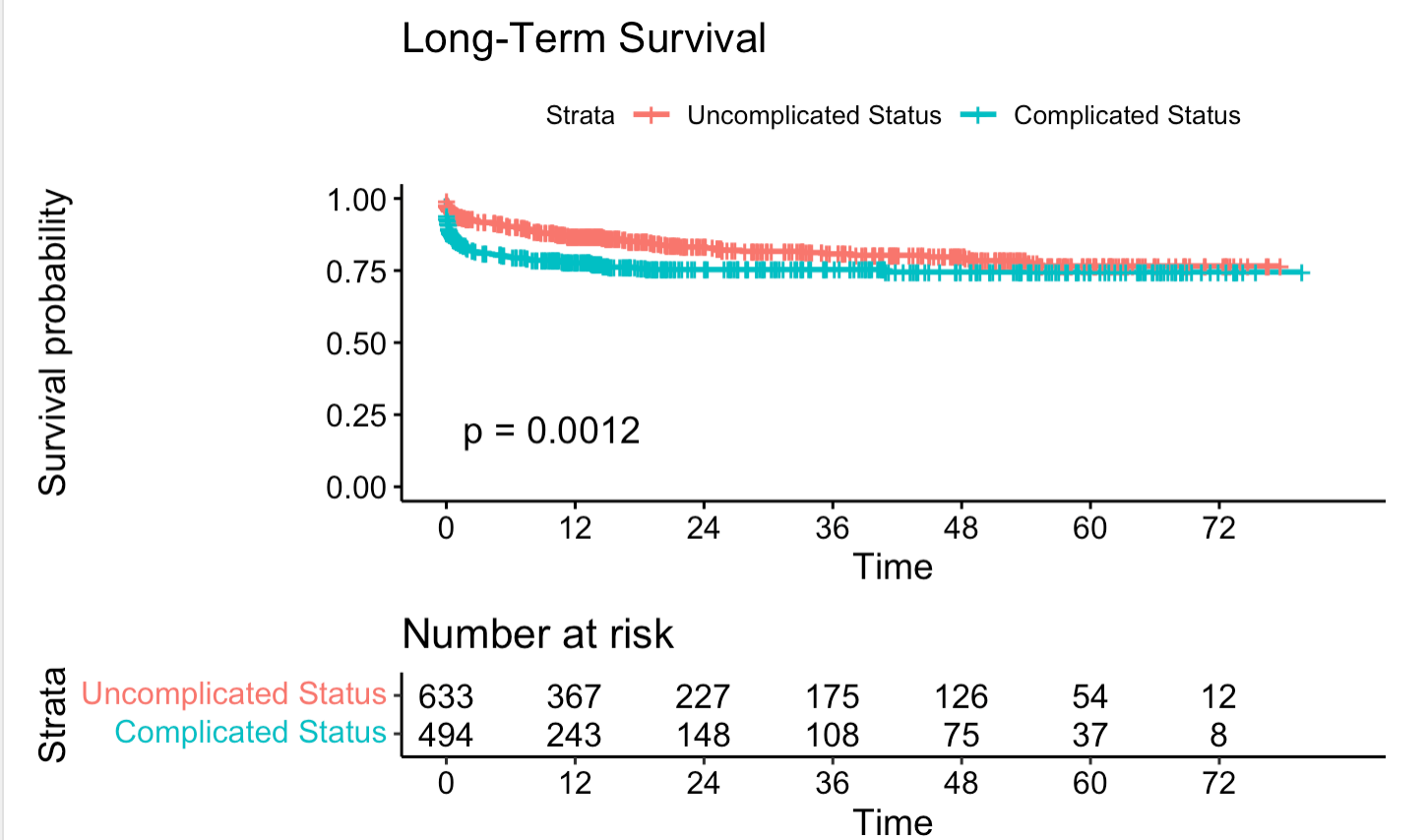 ---
Back to 2022 Karmody Posters