---
Endovascular Aortic Aneurysm Repair Is Associated With Late Decline Of Renal Function Compared To Patients With Peripheral Arterial Disease
Mohineesh Kumar, MD
, Graham W. Long, MD, Diane Studzinski, BS, Rose Callahan, MS, O W. Brown, MD, JD.
Beaumont Health, Royal Oak, MI, USA.
OBJECTIVES: The role of endovascular aortic aneurysm repair(EVAR) in subsequent renal dysfunction is not clearly defined. We compared these patients to a group with claudication or critical limb ischemia with regard to long term renal outcomes.
METHODS: We retrospectively analyzed patients with EVAR or angiographic evaluation for symptomatic lower extremity arterial occlusive disease(PAD) from July 2006-July 2013 at our institution. We propensity matched these groups for the following risk factors: diabetes, hypertension, smoking, stage 3 chronic kidney disease, age, and sex. RESULTS: We identified 321 EVAR and 704 PAD patients with median 8.8 and 8.5 years of follow-up, respectively. Of these, 214 EVAR and 214 PAD patients were propensity matched. Overall, EVAR patients were less likely to develop dialysis dependence(2.8% vs 6.6%;P=0.011), but had more contrast studies per patient (median 6.0 vs 3.0;P<0.001), and similar mortality(41.5% vs 39.8%;P=0.630) compared with PAD patients. In the matched cohorts, there were similar rates of subsequent dialysis dependence(1.4% vs 2.3%;P=0.502) and mortality(36.6% vs 40.4%;P=0.459), but more contrast studies per patient in the EVAR group(6.0 vs 3.0;P<0.001) and higher rates of coronary artery disease(43.4% vs 55.2%;P=0.020) as well as hyperlipidemia(50.9% vs 81.8%;P<0.001) than in the PAD patients. In EVAR patients, glomerular filtration rate (GFR) was stable and identical to that in PAD patients until 9 years of follow-up, when EVAR patients showed a significant decline in renal function (Figure 1). We also propensity matched 104 EVAR patients with supra-renal endograft fixation with 104 patients with infra-renal fixation and found no significant differences in the change in renal function between the two groups over time(figure 2). CONCLUSIONS: In matched populations, there was no difference in subsequent dialysis dependence between the EVAR and PAD groups. Renal function was identical in the two groups for several years, after which there was a sudden sustained relative deterioration in GFR in EVAR patients. This may be at least partially explained by the significantly higher number of contrast studies sustained by EVAR patients.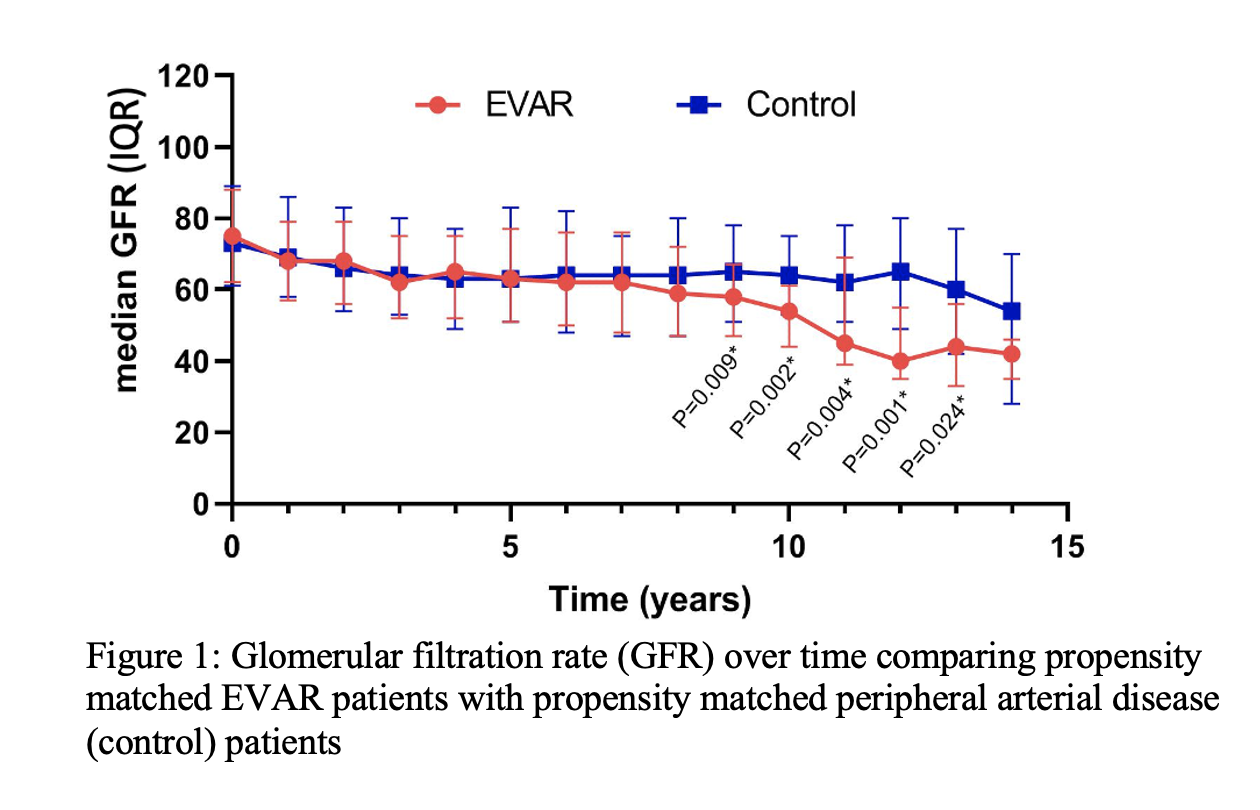 ---
Back to 2022 Karmody Posters