---
Implementation Of The Virtual Vascular Surgery Board (VSB) Certifying Examinations (CE)
Thomas S. Huber, M.D., Ph.D.
, Kellie R. Brown, MD, Jason T. Lee, MD, Carol L. Barry, PhD, Beatrice Ibanez, PhD, Andrew T. Jones, PhD, Bruce A. Perler, MD, Gilbert R. Upchurch, MD.
Vascular Surgery Board, Philadelphia, PA, USA.
Objective: COVID mandated postponement of the in-person VSB 2020 CE. Virtual CEs (VCEs) were developed for the scheduled 5/20 (1/21) and 5/21 (7/21) CEs to avoid a postponing certification testing. This study reports the development, implementation and outcome of the first two VCEs. Methods: The VCE was similar to the in-person format (3 - 30 min sessions, 2 examiners, 4 questions) but required a proctor and host. In contrast to General Surgery, the Vascular Surgery VCE incorporated images. Candidates and examiners were instructed on the format and technology checks were performed pre-exam. Candidates were given the opportunity to invalidate their exam for technology-related reason. Post-examination surveys were obtained from all participants. Results: The VCEs were completed by 99.7% (356/357) of the candidates. The pass rates for the 1/21 and 7/21 exams were 97.6% (first attempt - 99.4%, re-exam - 70%) and 94.7% (first attempt - 94.6%, re-exam - 100%), respectively, and were not significantly different from the 2019 in-person CE (χ2 = 2.30, p = 0.13 and χ2 = 0.01, p = 0.91, from the 1/21 and 7/21 exams, respectively). No candidates invalidated their exams. The candidates (162/356 - 46%), examiners (64/118 - 54%), proctors (25/27 - 93%), and hosts (8/9 - 89%) completing the survey were strongly satisfied with the process (Figures), and found the technology domains (Zoom, audio, video, viewing images) to be very good (Likert scores 4 or 5) with candidates and other responders scores of 73 - 84% and > 94%, respectively. Significantly more of the candidates favored a future VCE in contrast to the examiners (87% vs 32%, χ2 =67.1, p < .001). The free text responses from all responders commented favorably on the organization and implementation of the exam, but some of the candidates expressed concerns about the sizes of the images while some of the examiners expressed concern about the time constraints of the question format. Candidates appreciated the convenience of an at-home exam. Conclusions: The two VSB VCEs were psychometrically valid, fair, and overwhelmingly successful, demonstrating that the imaged-based VCE is feasible and may be the standard for future oral examinations.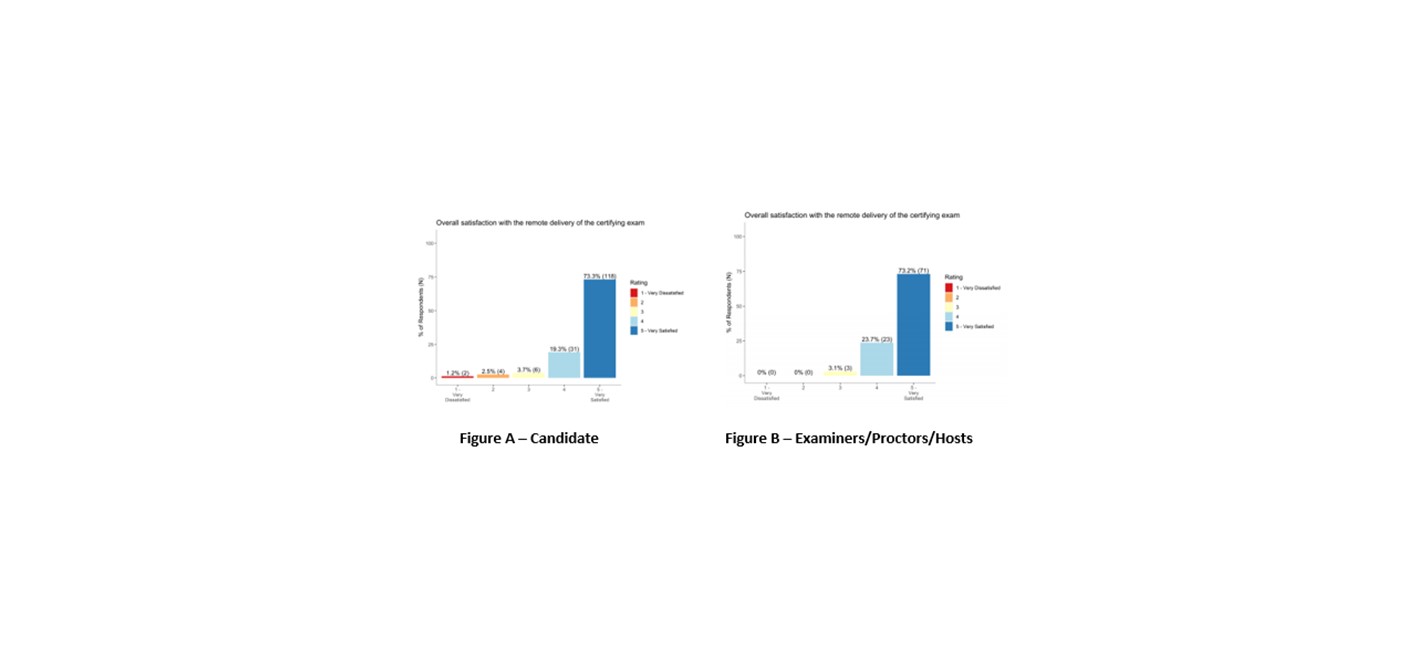 ---
Back to 2022 Abstracts