---
Presenting Coagulopathy Is Associated With Increased Mortality After Repair Of Ruptured Abdominal Aortic Aneurysm
Andre Stone, BS
, Mitchell R. Dyer, MD, Amanda R. Phillips, MD MS, Katherine M. Reitz, MD MS, Edith Tzeng, MD, Michel S. Makaroun, MD, Nathan L. Liang, MD MS.
University of Pittsburgh, Pittsburgh, PA, USA.
Objective: The aim of this study was to investigate the impact of coagulopathy on mortality in patients with ruptured abdominal aortic aneurysm (RAAA).
Methods: This was a retrospective study from 2001-2020 of RAAA patients presenting to a multi-hospital integrated health system. International normalized ratio (INR) levels were collected preoperatively, immediately postop, and daily through 5 days postop. INR≥1.6 was considered abnormal and ≥2.0 severely coagulopathic. Patients that were on warfarin preoperatively were excluded. Multivariate logistic regression was adjusted for age, gender, operation type (open repair[OSR] vs.endovascular repair[EVAR]), year, and the presence of preoperative hypotension. Outcomes included early (<24h) and 30-day mortality.
Results: Out of 730 RAAAs undergoing repair, we identified 437 (age 74.0±10.0yr, 74.3% male) with available INR data; 21 patients on warfarin were excluded. Mean presenting INR was 1.5±0.8; 74%(N=307) had a normal INR, 13%(N=55) had abnormal INR of 1.6-1.9, and 13%(N=54) were severely coagulopathic with INR≥2.0. Half (53%, N=220) underwent OSR (EVAR: 47%; N=196). There was no significant difference in age, gender, repair type, or preoperative CPR among INR categories; however, those with any presenting coagulopathy were more likely to present with hypotension (normal: 14%[N=43]; INR 1.6-1.9: 29% [N=16]; INR≥2.0: 28%[N=15] P<.01). Presenting coagulopathy was associated with increased 30-day mortality (normal: 25% [N=77]; INR 1.6-1.9: 49% [N=27]; INR≥2.0: 61% [N=33]; P<.01, Figure 1). This association persisted after adjustment on multivariable logistic regression (INR 1.6-1.9: OR 2.7 [95% CI 1.4-5.2]; INR≥2.0: OR 5.0 [95% CI 2.6-9.7]; P<.01). Only INR≥2.0 was significantly associated with increased early mortality (OR 3.0 [95% CI 1.3-6.9, P<.01). Of those who had no coagulopathy preoperatively, 21% (N=66) developed postop coagulopathy (INR 1.6-1.9: 13% [N=42]; INR≥2.0: 8% [N=24]), with most peaking on postop day 0 (IQR 0-2). Nearly all patients (89%) with perioperative coagulopathy had either died or normalized their INR by postop day 3.
Conclusion: Presenting coagulopathy is associated with increased early and 30-day mortality after repair of RAAA, and one-fifth of patients can develop new coagulopathy postoperatively. Further study is required to determine mechanisms of coagulopathy and develop targeted interventions to improve outcomes in this population.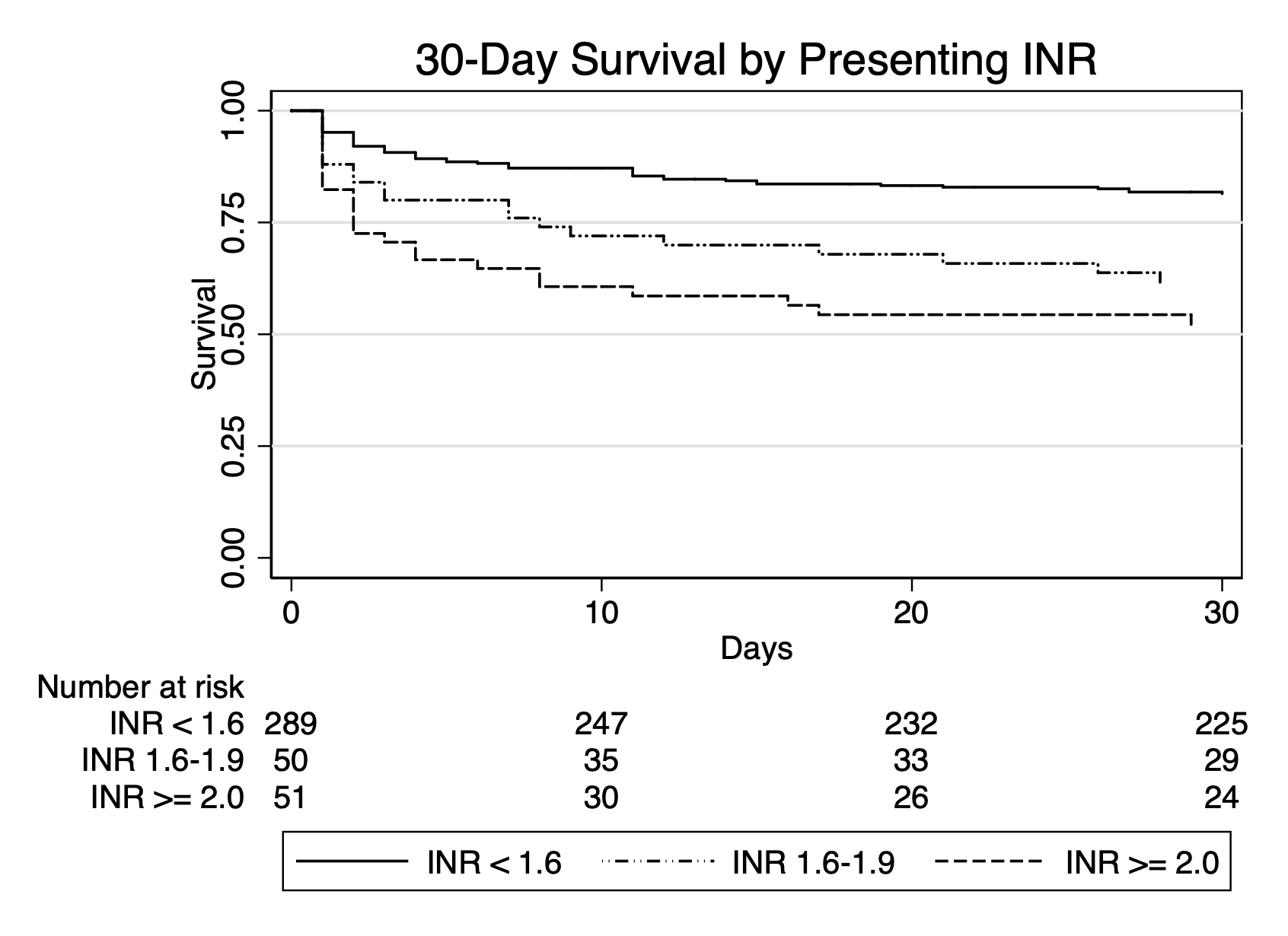 ---
Back to 2022 Abstracts