---
Retrieval Of An Embolized Watchman Device Through A Retroperitoneal Aortotomy
Yonjae Kim, MD
, Zachary Osborne, MD.
Carle Foudation Hospital, Urbana, IL, USA.
Demographics: The Watchman is an endovascularly implanted left atrial appendage (LAA) closure device that reduces risk of stroke and systemic thromboemboli in patients with atrial fibrillation who cannot tolerate long term anticoagulation. History: A 79 year-old man with a history of paroxysmal atrial fibrillation with CHADs-VASC score of 6 (from age, hypertension, stroke, and peripheral artery disease with multiple endovascular and open interventions), and history of falls underwent a watchman device implantation. The transesophageal echocardiogram measured LAA ostium width to be 23.7 mm with depth of 19.6 mm. A 27mm Watchman FLX device was implanted through a right femoral vein access with 2.5 mm residual leak. A few hours after the procedure, he developed sudden hypertension with systolic blood pressure up to 240s, severe back pain, confusion, emesis, bloody sputum, and profound bilateral leg weakness and numbness with loss of femoral pulses. A CT angiogram showed embolization of the watchman device to the paravisceral aorta with distal occlusion (Figure A). Plan: The patient was taken emergently for left retroperitoneal exposure and embolectomy of the Watchman device. After obtaining supraceliac control, a longitudinal aortotomy along the posterolateral wall from below the left renal artery to above the celiac artery was made (Figure B, probe at SMA). The Watchman device was identified and removed (Figure C). Embolectomy was performed on the SMA and bilateral renal arteries. The aorta was closed primarily and the clamp was moved below the renals. A transverse aortotomy was made at the aortic bifurcation through which embolectomies of the bilateral common iliac, external iliac, and common femoral arteries were performed. Intra-operative duplex exam showed that bilateral profunda arteries and visceral arteries were patent. Post-operatively he developed acute renal failure for which he was placed on permanent hemodialysis. An echocardiogram showed no significant valvular damage. Long-term anticoagulation was resumed, and follow up ultrasound 1.5 months later demonstrated patent visceral and renal arteries. He had reduced ankle-brachial indices of 0.53 and 0.45 on his right and left legs, respectively, with mild intermittent claudication similar to his baseline. Discussion: A Watchman device embolization is a rare complication with few reported cases.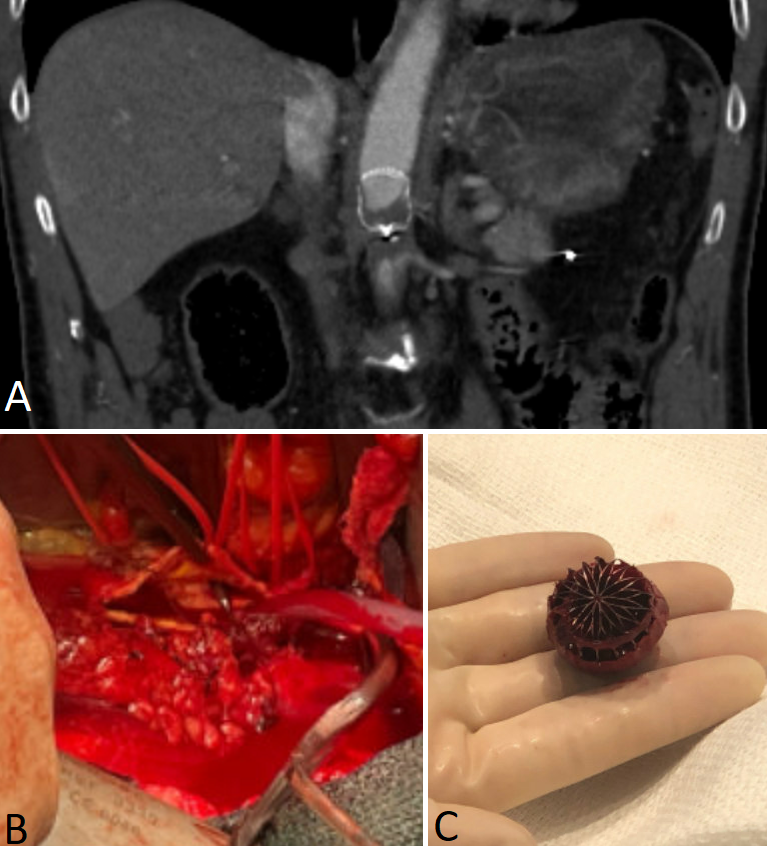 ---
Back to 2022 Abstracts