---
Managing Infected Femoral Pseudoaneurysm After Thoraco-bifemoral Bypass With An Innovative Configuration
Mu'ath Adlouni, BS
, Ezra Y. Koh, MD, Eric Peden, MD, Maham Rahimi, MD, PHD.
Houston Methodist Hospital, Houston, TX, USA.
DEMOGRAPHICS: The following is the case of a 60-year-old Caucasian female
HISTORY: This patient has a past medical history significant for diabetes, hypertension, hyperlipidemia, and tobacco abuse. She's had multiple attempts at lower extremity revascularization including a failed aortobifemoral bypass and femorofemoral bypass in an outside institution due to poor inflow. A thoraco-bifemoral bypass was then performed to which the patient did well and was discharged to rehabilitation shortly after. She presented back to our institution with right groin pain, a pulsatile mass, and erythema 3 months after her thoraco-bifemoral bypass was placed. CT revealed an isolated right common femoral artery pseudoaneurysm without evidence of infection in the remainder of the graft, as shown by Figure 1 A, B. Importantly, CT indicated isolated pelvic perfusion through the right internal iliac artery.
PLAN: Urgent revascularization was completed using an 8mm GORE®️ PROPATEN®️ Vascular Graft - Standard-walled, Axillobifemoral, Removable Ringed, whereby the right limb of the previously placed thoracobifemoral graft was used for a proximal end-to-end anastomosis to the short limb of the axillobifemoral graft. This was then followed by an additional end-to-end anastomosis to the proximal right external iliac artery (EIA) for retrograde perfusion of the pelvis, shown in Figure 1C. The last limb of the axillobifemoral graft was then tunneled to the right superficial femoral artery (SFA) via the obturator foramen. The distal right EIA was suture ligated. The incisions were then closed using an occlusive dressing allowing for isolation of the groin wound. The groin wound was then explored, and all the prior grafts were removed. A healthy section of the posterior wall of the common femoral artery was then used as a hood over for the profunda femoral artery (PFA) and SFA to allow retrograde flow into the PFA.
DISCUSSION: This unique approach allowed for isolation and removal of the infected right groin pseudoaneurysm while maintaining perfusion of the pelvis via the right EIA in addition to the right lower extremity via right SFA. At one year follow-up, the patient is doing well and infection-free while on lifelong oral antibiotics.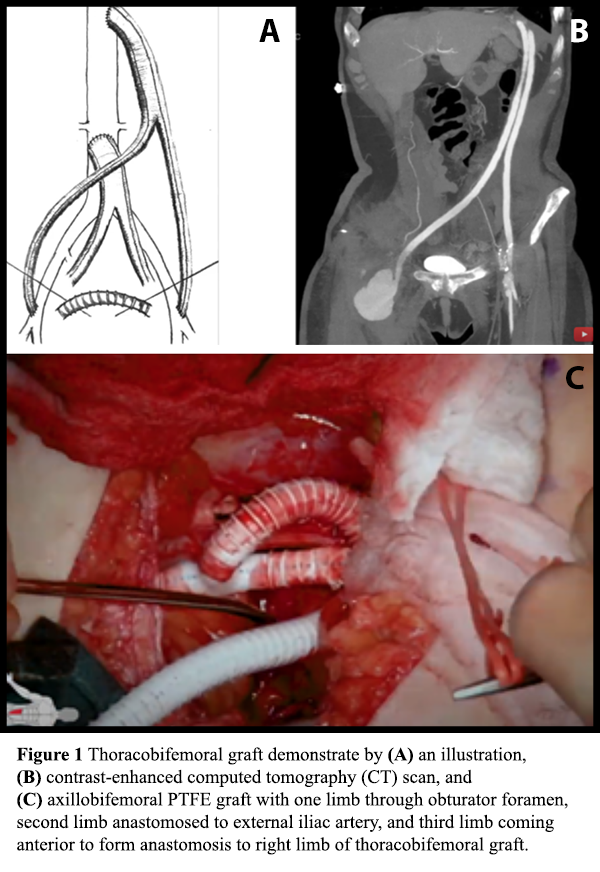 ---
Back to 2022 Abstracts