---
Aorto-esophageal Fistula Management After Denture Erosion And Esophageal Stent Placement
Trenton W. Kinnear, MD
, Catherine L. McKnight, MD, Thomas E. Gaines, MD, Michael M. McNally, MD.
University of Tennessee Graduate School of Medicine, Knoxville, TN, USA.
DEMOGRAPHICS: 75-year-old male who initially presented to an outside hospital with an esophageal perforation secondary to swallowed dentures. The patient was subsequently treated with an esophageal stent that eroded the dentures into his thoracic aorta creating the aorto-esophageal fistula (AEF).
HISTORY: The patient was transferred to a tertiary care hospital after a herald bleed and CTA imaging revealed the AEF. He was taken emergently for thoracic endovascular aortic repair with an antibiotic soaked stent graft. He subsequently underwent esophagectomy with cervical esophagostomy where the denture and esophageal stent were removed. In a planned staged surgery months after initial emergency surgery, he underwent successful cervical esophagogastrostomy creation through an anterior mediastinal approach. On two-year follow-up, the patientís surveillance imaging shows no evidence of stent graft infection or long-term complications.
PLAN: Long term surveillance of his thoracic aortic stent graft is scheduled.
DISCUSSION: This is a unique presentation of AEF. Survival was optimized by early diagnosis and treatment in a multi-disciplinary team fashion. Case discussion includes common presentations of AEF, management strategies and specifically this patientís successful treatment plan.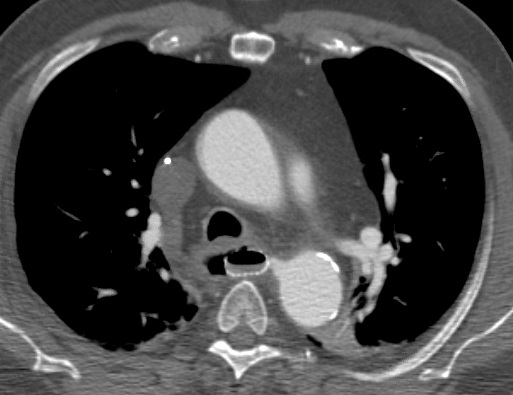 ---
Back to 2022 Abstracts