---
Endovascular Management Of Extensive Caval Thrombosis Leading To Acute Renal Failure In A Young Female Patient
Shivani Kumar, MD
, Peter Cooke, BS, Mallika Gopal, MD, Aaron Fischman, MD, Robert Lookstein, MD, Peter Faries, MD, Ageliki Vouyouka, MD.
Mount Sinai Hospital, New York, NY, USA.
DEMOGRAPHICS: Acute iliocaval thrombosis can be a limb or life-threatening condition that is challenging to treat. We present the successful management of a young female with acute renal failure on hemodialysis due to extensive thrombosis of her inferior vena cava (IVC) and bilateral renal veins.
HISTORY: A 28-year-old female presented to our institution with progressive bilateral lower extremity edema over the last ten months and acute renal failure requiring hemodialysis. Outside work up showed elevated anti-cardiolipin antibodies. CT imaging revealed bilateral lower extremity deep venous thrombosis with extensive IVC thrombosis from the iliac veins to the right atrium with involvement of both renal veins (Figure 1a). The patient was admitted to our institution and received systemic anticoagulation with minimal improvement in her symptoms or renal function.
PLAN: Access was obtained from bilateral femoral veins and right internal jugular vein. After the initial venogram we used a combined endovascular approach with pharmaco-mechanical thrombectomy/lysis (Zellante, Angiojet, Boston Scientific) and mechanical thrombectomy with CloTriever ® (Inari Medical), balloon angioplasty of the right renal vein (left not visualized) and bilateral iliac stents. Coming from the jugular access, two discs of the FloTriever ® (Inari Medical) were used as embolic protection just below the atrium. We were successful using these techniques, bilateral 14x120mm self-expandable stents in the iliac veins, and right renal vein angioplasty to restore venous flow (figure 1b).
DISCUSSION: Within six days, the patient had complete recovery of renal function with normal creatinine and urine output, no longer requiring dialysis. The patient has been maintained on oral anticoagulation. At one-year follow up the stents and renal vein remained patent and creatinine was normal (figure 1c). At 18 -month follow up, one central venous stent was partially compressed, however there remains inline flow from the bilateral iliac veins to the atrium with patent renal veins and normal creatinine. This is a rare case showing salvage of renal function in a patient with extensive IVC and renal venous thrombosis via thrombectomy and thrombolysis. This case serves as an example of the restorative capability of thrombectomy and thrombolysis in patients with acute renal failure secondary to RVT.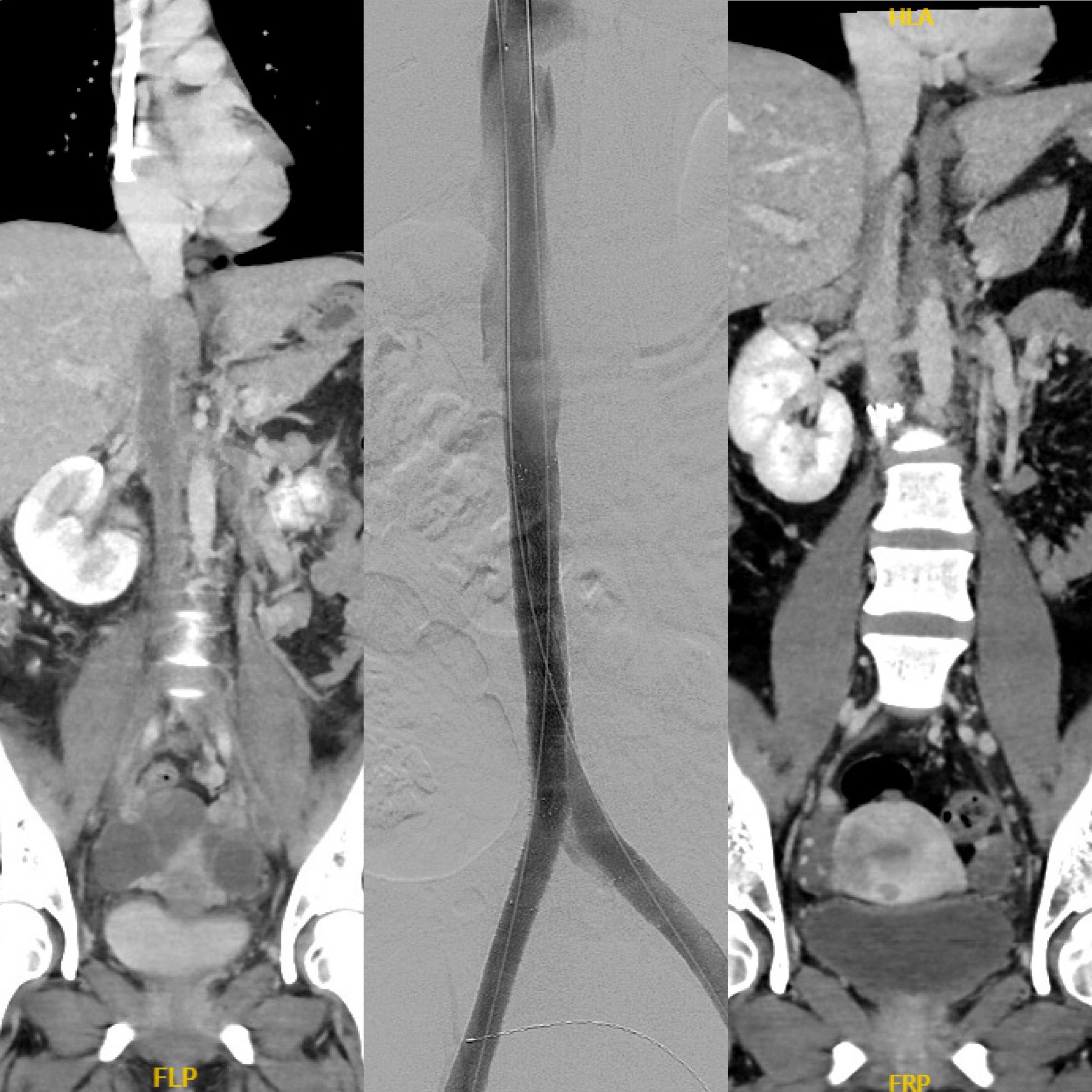 ---
Back to 2022 Abstracts