---
A Case Of Acute Endograft Occlusion Following Tevar For Penetrating Trauma
Owen S. Glotzer, MD
, Amanda Kistler, MD, Jeffrey Hnath, MD, Sean Roddy, MD, R. Clement Darling, III, MD.
Albany Medical Center, Albany, NY, USA.
DEMOGRAPHICS: A 26-year-old male was brought to our tertiary referral center with complaints of hematemesis and right leg pain and weakness. He was found to have a leukocytosis of 14.9 and a creatinine of 4.9.
HISTORY: The patient had suffered a gunshot wound to the chest five years prior to presentation, which was managed with a thoracic endograft (TEVAR). Three years after the index procedure the endograft developed a severe stenosis. Angioplasty and stent placement were performed however intraoperative embolization necessitated conversion to open supraceliac aortic thrombectomy and celiac artery embolectomy through a left retroperitoneal approach. Both previous repairs took place at an outside institution. CT scan on presentation demonstrated occlusion of both the thoracic endograft and stent.
PLAN: Due to the acute presentation and concern for renal and visceral malperfusion, emergent right axillary to femoral bypass was performed with a 10 mm PTFE graft which was successful in relieving his renal injury, mesenteric ischemia symptoms, and lower extremity ischemia. He required revision of the extra-anatomic bypass five days later after an altercation with a security guard led to disruption of the proximal anastomosis. Subsequently the patient underwent open aortic reconstruction via a left 6th interspace posterolateral thoracotomy and a left 10th interspace retroperitoneal approach. A 16 mm PTFE graft was sewn end-to-side to the descending thoracic aorta, tunneled posterolateral through the diaphragm, and sewn end-to-side to the infrarenal aorta. The axillary-femoral bypass was removed at a subsequent procedure. The patient recovered uneventfully and was discharged from the hospital on postoperative day 9.
DISCUSSION: TEVAR has become the standard of care in blunt thoracic aortic injury requiring repair. It has been described in penetrating trauma in the rare patient who survives long enough to undergo intervention. Thrombosis and occlusion of a thoracic endograft is a rare complication attributed to pleating and eventual collapse of the endograft. This is a case of TEVAR placed for penetrating thoracic trauma that required intracavitary bypass due to endograft occlusion.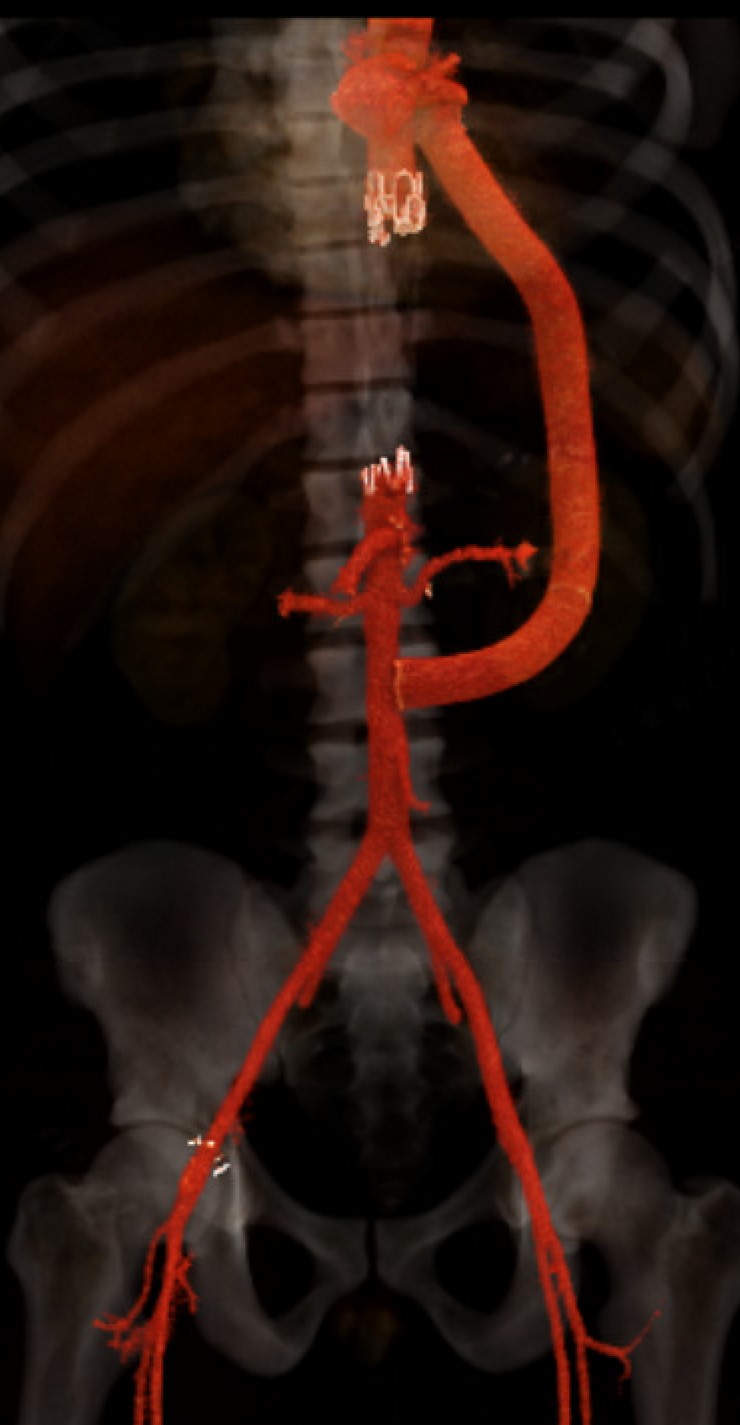 ---
Back to 2022 Abstracts