---
Collapsed Endograft And Lower Limb Ischemia From Type B Dissection Repaired With TEVAR And Iliac Stenting
Peter V. Cooke, BA
1
, Halbert Bai, MPH
1
, Justin M. George, MD
2
, Christopher M. Faries, BA
1
, Ajit Rao, MD
2
, Michael L. Marin, MD
2
, Rami O. Tadros, MD
2
.
1
Icahn School of Medicine at Mount Sinai, New York, NY, USA,
2
Division of Vascular Surgery, Mount Sinai Hospital, New York, NY, USA.
DEMOGRAPHICS: We present the case of a 60 year-old male with a history of right common iliac artery aneurysm who underwent EVAR with a Gore Excluder device.
HISTORY: At his one-year follow-up, imaging revealed no sign of endoleak or other abnormality. Four months later, the patient presented with ten days of chest, back, abdominal, and bilateral lower extremity pain. His blood pressure was elevated at 152/85 and his exam was notable for a cool left foot with decreased sensation to the left ankle. Imaging revealing a type b dissection (TBAD) originating just distal to the left subclavian artery is featured in Figure 1.
PLAN: A TEVAR with prophylactic left subclavian revascularization was planned. The patient underwent left carotid artery to left subclavian artery bypass in preparation for zone 2 TEVAR deployment. Bilateral femoral artery access was obtained. A compliant balloon was used to open the crushed abdominal graft. A Cook ZTA graft was deployed in zone 2 to address the entry tear. Given continued true lumen compression, an extension graft was placed, landing just proximal to the celiac artery. Subsequently, an aortic cuff was deployed just below the renal arteries to provide additional radial force to the infrarenal device. Aortoiliac angiogram demonstrated continued fixed obstruction of the left iliac artery. A Gore VBX stent graft was used to re-line the left iliac limb. Postoperatively the patient had palpable pedal pulses and resolution of leg pain. Follow-up imaging showed positive remodeling and peripheral perfusion, feature in Figure 2.
DISCUSSION: Stent graft collapse is a rare complication after EVAR. The etiology of TBAD in patients with abdominal EVAR remains unknown. We hypothesize that our case was a primary TBAD, with a high-pressured false lumen compressing and collapsing the abdominal aortic stent graft.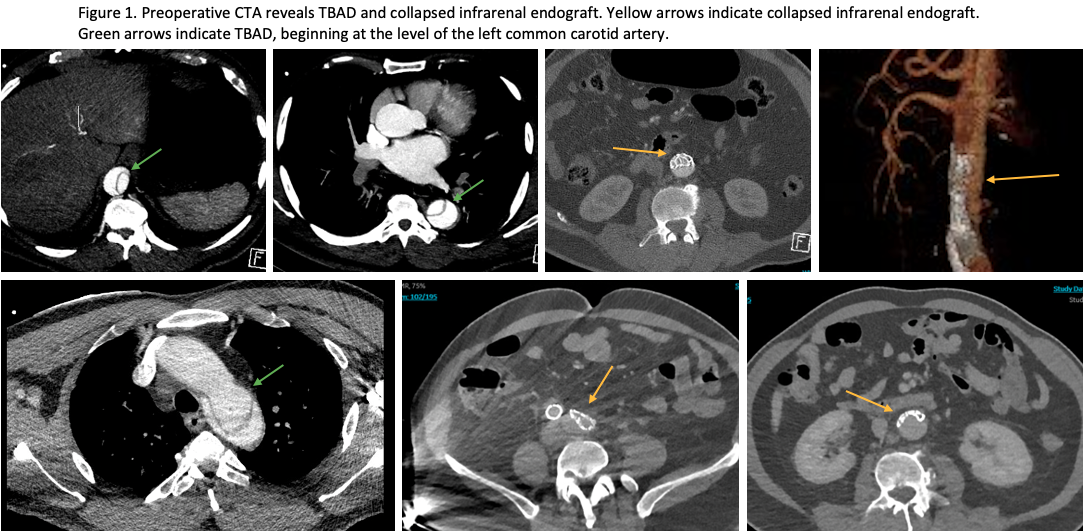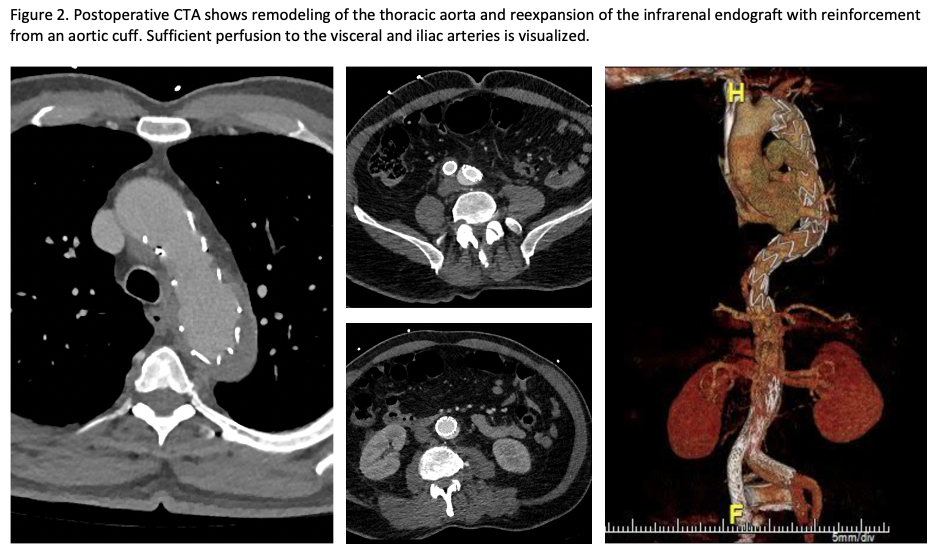 ---
Back to 2022 Abstracts