---
Predictors of Outcome in Infrainguinal Bypass for Trauma
Hunter M. Ray, MD
, Harleen K. Sandhu, MD, MPH, Charles C. Miller, PhD, Rana Afifi, MD, Edmundo Dipasupil, Ali Azizzadeh, MD, Kristofer Charlton-Ouw, MD.
The University of Texas Medical School at Houston, Houston, TX, USA.
OBJECTIVES:
Vascular injuries are present in 1-2% of trauma cases and can lead to significant morbidity. We determine outcome predictors in infrainguinal bypasses done for trauma.
METHODS:
In patients between 1999-2015, we defined poor outcome as a composite of: thrombosis leading to graft abandonment, reoperation, major amputation, or death. Data were analyzed by stratified Kaplan-Meier and multiple Cox regression.
RESULTS:
Infrainguinal arterial bypasses were done in 108 patients (45 end-to-side and 63 interposition). Mean age was 35±17 years-old; 10/108 (10%) had diabetes mellitus (DM); median Injury Severity Score (ISS) was 12 (IQR 9-18); median glomerular filtration rate (GFR) was 77.5 (IQR 59-92); median Mangled Extremity Severity Score (MESS) was 6 (IQR 5-7); 39/108 (36%) had blunt injury; and 76/108 (70%) had an infrageniculate target for bypass. Univariate risks for poor outcome include age >40 years (48% vs 21%, p<0.01); MESS>7 (51% vs 14%, p<0.01); blunt mechanism (39% vs 15%, p<0.01); diabetes (70% vs 27%, p<0.01); and infrageniculate target (37% vs 16%, p<0.03). MESS>7 was 73% sensitive and 70% specific in predicting poor outcomes.
Probability of poor outcome rose to 95% with MESS ≥12 (Figure 1). Age (OR 1.03/year, p<0.04) and MESS>7 (OR 3.8, p<0.02) were persistently associated with poor outcome in multivariable analysis. In stratified analysis, interposition grafts fared worse only in penetrating injuries with composite poor outcome in 0/13 (0%) in end-to-side vs. 6/26 (23%) in interposition bypass (RR 1.3; 95% CI 1.1-1.6; p<0.03).
CONCLUSIONS:
Poor outcomes in infrainguinal bypass for trauma are associated with age >40 years, MESS>7, blunt mechanism, infrageniculate target as well as history of DM. Interestingly, interposition bypasses had worse outcomes compared to end-to-side bypasses only in penetrating injures.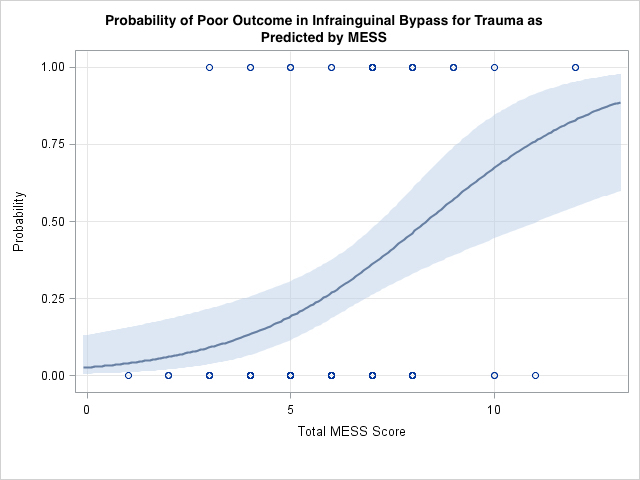 ---
Back to 2018 ePosters