---
Examining radiation exposure during endovascular infrainguinal peripheral vascular interventions
Elizabeth Andraska, MD, MS1, Danielle Sutzko, MD, MS2, Catherine Go, MD1, Rabih Chaer, MD1, Nicholas Osborne, MD, MS2.
1University of Pittsburgh Medical Centers, Pittsburgh, PA, USA, 2University of Michigan, Ann Arbor, MI, USA.
OBJECTIVES:
Endovascular peripheral vascular interventions (PVI) are the dominant approach for treating peripheral vascular disease. As such, there is growing interest in protecting against radiation associated illness but there is a paucity of data describing modifiable factors that contribute to increased radiation exposure. As such, this study aimed to investigate patient and procedure related variables associated with increased radiation during common endovascular procedures.
METHODS:
This study retrospectively captured demographic, anatomic, procedural, and outcome related data for all patients undergoing infrainguinal PVIs from 2010 to 2017 utilizing the Vascular Quality Initiative PVI database. The outcome measure was fluoroscopy time (FT), which was used as a surrogate measure of radiation exposure. Prolonged radiation exposure was defined as FT two times the standard deviation. Patient and procedural factors were compared between normal FT and prolonged FT. Factors associated with prolonged FT were evaluated using univariate and multivariable statistics.
RESULTS:
79,747 patients were included in the analysis, of which 2,243 underwent procedures with prolonged FT. Only infrainguinal procedures were included in the analysis. The majority of patients in the normal FT group were treated for femoral/popliteal disease (62.66%) whereas the majority of patients in the prolonged FT group were treated for tibial/pedal disease (50.07%). The majority of patients in both groups were treated with balloon angioplasty (81.08% normal, 78.73% prolonged), with stents and special balloons being used in 7.51-10.79% of cases. The most common concomitant therapy was atherectomy in both groups (6.15% normal, 7.85% prolonged). After adjusting for pre-procedural and procedural data, clinically significant factors associated with prolonged FT included preoperative aspirin use (OR 1.21, p <0.001), preoperative P2Y antiplatelet use (OR 1.12, p=0.02), treatment of tibial or pedal disease (OR 1.50, p<0.001), stent use (OR 1.63, p< 0.001), intravascular ultrasound use (OR 2.32, p<0.001), and suction thrombectomy use (OR 1.66, p=0.03).
CONCLUSIONS:
This analysis is the first large scale study to document factors associated with increased radiation exposure during common vascular procedures. These results will not only help to inform our specialty, but also serve as an important step in identifying modifiable factors that can be addressed when attempting to limit radiation exposure.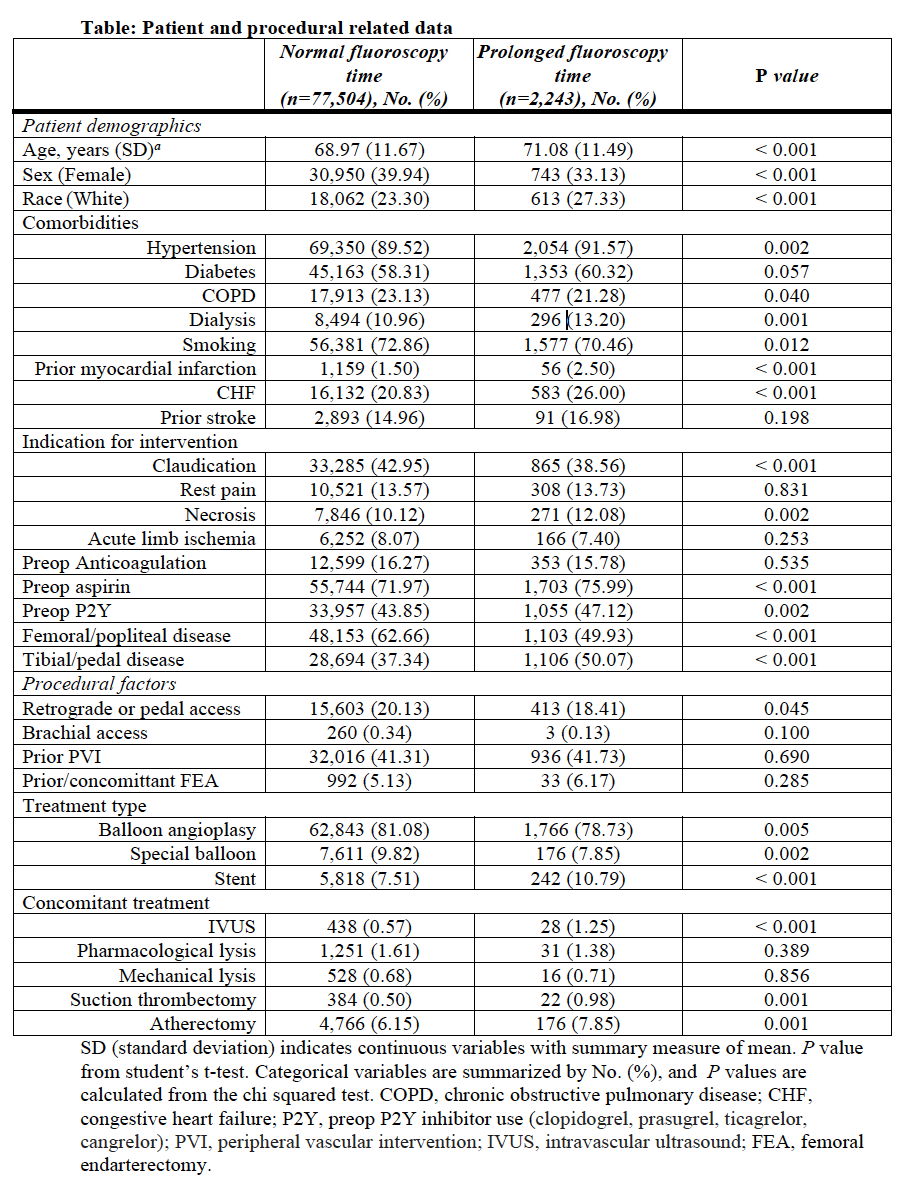 ---
Back to 2019 Abstracts