---
Vascular Surgeon Preferences and Perceptions in the Operative Management of Complex Abdominal Aortic Aneurysms
Nader Zamani, MD, Sherene E. Sharath, PhD, MPH, Panos Kougias, MD, MSc.
Baylor College of Medicine, Michael E. DeBakey VA Medical Center, Houston, TX, USA.
OBJECTIVES: Complex (pararenal, suprarenal, and paravisceral) abdominal aortic aneurysms (AAAs) are managed by either open aneurysm repair (OAR) or fenestrated endovascular repair (FEVAR). Numerous single-arm descriptions of FEVAR outcomes lack an OAR comparison group. In the absence of prospective studies, assessing equipoise and surgeon perception of optimal complex AAA management can inform future evidence-generating efforts.
METHODS: Surgeons treating complex AAAs were surveyed to examine the frequency with which they treat their patients with either FEVAR or OAR. Their perceptions on the usefulness of a prospective study to compare the two treatment modalities were assessed.
RESULTS: Fifty-two (70%) surgeons responded to the survey. Pararenal AAAs were the most common type of aneurysm treated (accounting for 47% of facility complex AAA volume, with 58% treated with FEVAR); followed by paravisceral AAAs (27% of volume, 45% treated with FEVAR); and suprarenal AAAs (26% of volume, 51% treated with FEVAR). When presented with a scenario of a patient who was physiologically and anatomically a candidate for either FEVAR or OAR, more than half (pararenal AAA: 57%; suprarenal AAA: 55%; paravisceral AAA: 51%) believed there was equipoise and would randomize the patient to either FEVAR or OAR. The remaining respondents were divided among FEVAR, OAR, and other individualized options (Figure 1). When considering a patient with a pararenal AAA who is at high risk for open repair but is not a candidate for FDA-approved device placement, 47% stated they would use parallel stent grafts or other creative techniques to address the aneurysm endovascularly. In total, 83% of surgeons indicated that a prospective comparison of long-term outcomes between FEVAR and open repair would help guide clinical practice, and 87% were willing to participate in such a study.
CONCLUSIONS: Substantial uncertainty surrounds the choice of an ideal operative strategy for the repair of complex AAAs. The majority of aortic surgeons we surveyed stated that there is equipoise between FEVAR and OAR and further agreed to the need for a well-designed prospective comparison between these two treatment modalities. This data provides justification for a multicenter initiative to compare FEVAR vs. OAR in the management of complex AAAs.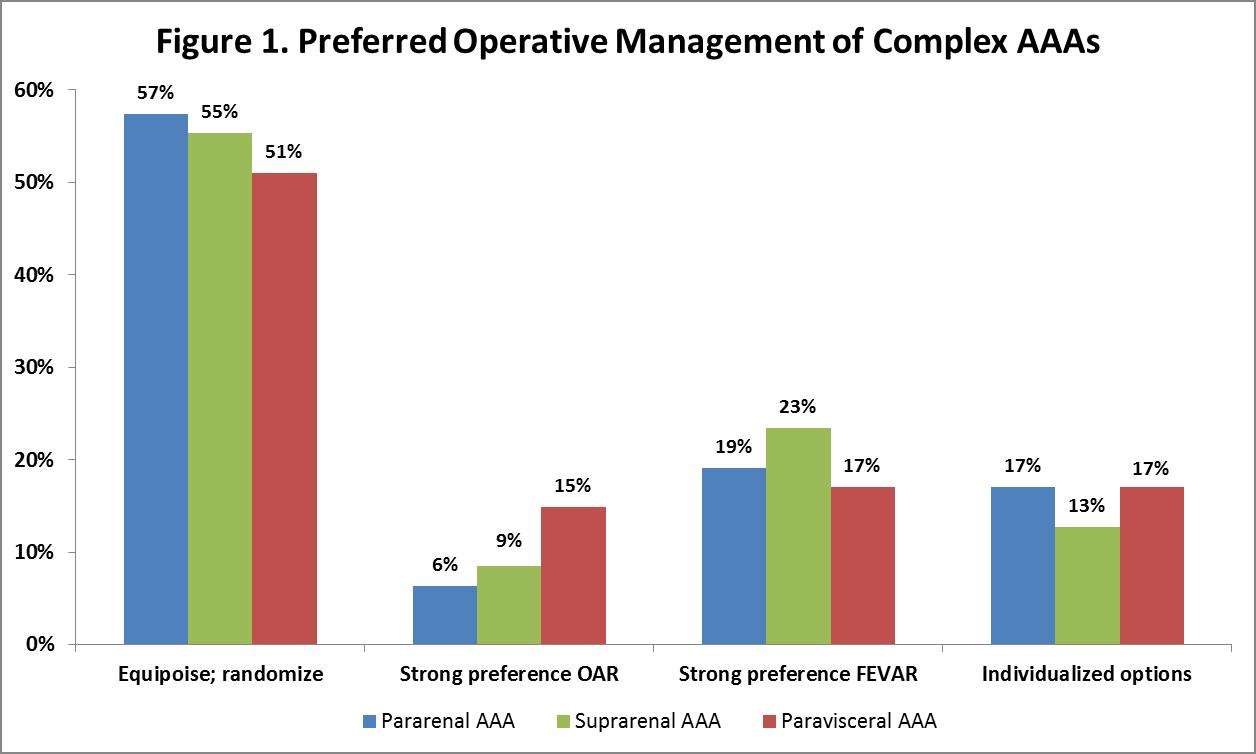 ---
Back to 2019 Abstracts