---
In-vivo Laser Fenestration Of The Superior Mesenteric Artery Through A Thoracic Endograft To Extend The Seal Zone During An Endovascular Repair Of An Suprarenal Aorticaneurysm
Loay Kabbani, MD, Mitchell Weaver, MD,
Ali Rteil, MD
, Scott Bendix, MD, Timothy Nypaver, MD.
Henry Ford Health System, Detroit, MI, USA.
DEMOGRAPHICS: We present a case of a suprarenal aortic aneurysm treated by an endovascular fenestrated graft. We extended the proximal landing zone by using a thoracic endograft and in vivo laser fenestration of a the SMA through the thoracic endograft. HISTORY: The patient underwent a two-stage repair. A spinal drain was placed preoperatively. The first stage involved creating proximal landing zone for the Zenith fenestrated graft. We first placed a 10 mm SMART stent (Cordis Hialeah, FL) in the SMA to mark the ostium of the artery. Two TX2 thoracic endografts (Cook Medical Bloomington, IN) were placed snorkeling the celiac with a 10 mm Viabahn stent graft (Gore Medical, Flagstaff AZ) in a sandwich technique. The TX2 thoracic graft was deployed covering the SMA and landed just proximal to the renal arteries. An endovascular laser (Philips Medical Colorado Springs, CO) was used to fenestrate the TX2 graft at the level of the SMA. A 10 mm iCAST balloon expanded stent (Getinge Medical Merrimack, New Hampshire) was deployed across the fenestration and flared into the aorta using a 12 mm balloon. The patient tolerated this procedure well and was discharged postoperative day 4 with no complications. Eight weeks later the patient returned for the second stage. This involved utilizing the TX2 thoracic graft as a proximal seal and placing a Zenith fenestrated endograft (Cook Medical) distally to exclude the aneurysm. The Zenith graft had an SMA scallop and two renal fenestrations (Figure C). The patient was discharged on post-op day 2. A post-op CTA confirmed adequate placement of the endografts, with no endoleaks. DISCUSSION: We describe a case of a pararenal aortic aneurysm, not amenable to open repair due to associated comorbidities. Our successful treatment approach involved extending the proximal landing Zone by placing a TX2 thoracic graft and in vivo fenestration of the SMA. We then placed a Zenith fenestrated graft distally.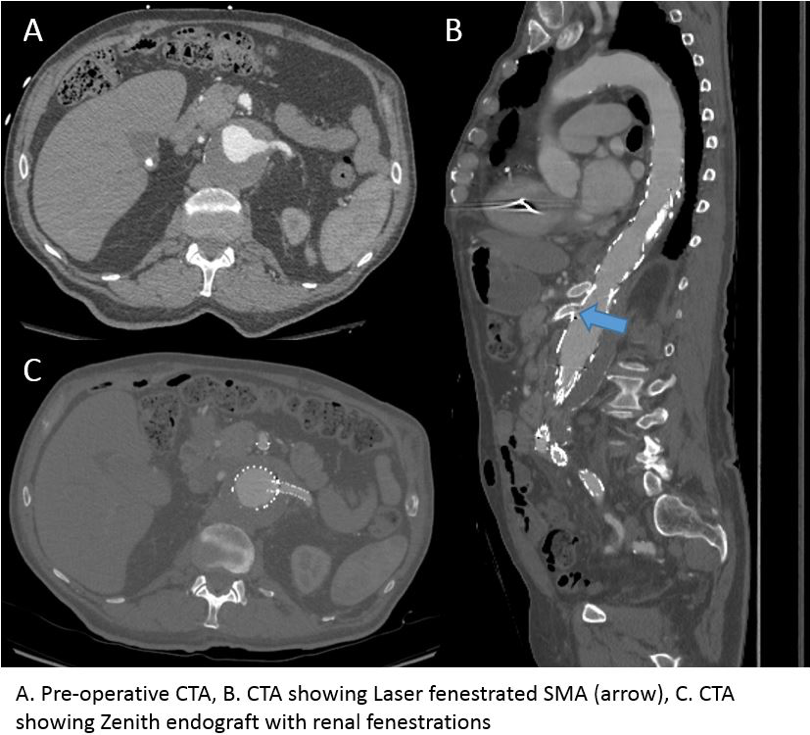 ---
Back to 2020 Abstracts