---
A Tale Of Two Surges: Improved Mortality During Second Wave Of COVID-19 Infections
Richard A. Meena, MD
, Xiangqin Cui, Ph.D, Yue Xie, Christopher R. Ramos, MD, Yazan Duwayri, MD, Manila Gaddh, MD, Olamide Alabi, MD.
Emory University, Atlanta, GA, USA.
OBJECTIVES: Early publications have suggested higher venous thromboembolism (VTE) and mortality rates in patients diagnosed with Coronavirus Disease 2019 (COVID-19), prompting implementation of aggressive anticoagulation protocols to treat this high-risk cohort. In the United States, we experienced the first wave of the COVID-19 pandemic between March and May 2020, with a second wave arising between July and August. Our objective was to determine if there has been improvement in VTE and mortality rates within our healthcare network.
METHODS: IRB approval was obtained to review a prospectively maintained registry of COVID-19 patients treated within a large multi-hospital healthcare system. These patients were categorized into Surge 1 (admissions between 3/6/20 and 5/30/20) and Surge 2 (admissions between 6/1/20 and 9/4/20). Age, sex, race/ethnicity, comorbidity, ICU admission, VTE occurrence, and mortality data were obtained. Analyses were performed using R programming.
RESULTS: 2272 patients with COVID-19 required admission to select hospitals within our healthcare system. 36.6% of patients were admitted during Surge 1, with the remaining 63.4% admitted during Surge 2. Patients admitted during Surge 2 had lower mortality rates and shorter lengths of stay than those admitted during Surge 1 (Table 1). 31.9% of all patients admitted with COVID-19 required ICU care. Of these ICU patients, 6.2% fewer patients died during Surge 2, albeit not statistically significant (p=0.061). The VTE rate was similar during Surge 1 and Surge 2 for all admissions (12.9% versus 11.4%, p=0.239), as well as for ICU admissions specifically (17.7% versus 15.5%, p=0.484). On multivariate analysis of all COVID-19 patients, VTE was independently associated with mortality (odds ratio, 1.83; 95% CI, 1.17 to 2.84).
CONCLUSIONS: Patients with COVID-19 in our healthcare system who developed VTE had nearly two-fold higher odds of mortality. VTE and mortality rates in our healthcare system are lower than previously reported global data, with Surge 2 mortality rates even further reduced. These findings may be due to the aggressive tiered anticoagulation strategies our healthcare network has implemented based on lab findings, clinical suspicion, and diagnostic imaging. Future research should be aimed toward improving prophylactic anticoagulation protocols to reduce VTE incidence in this hypercoagulable patient population.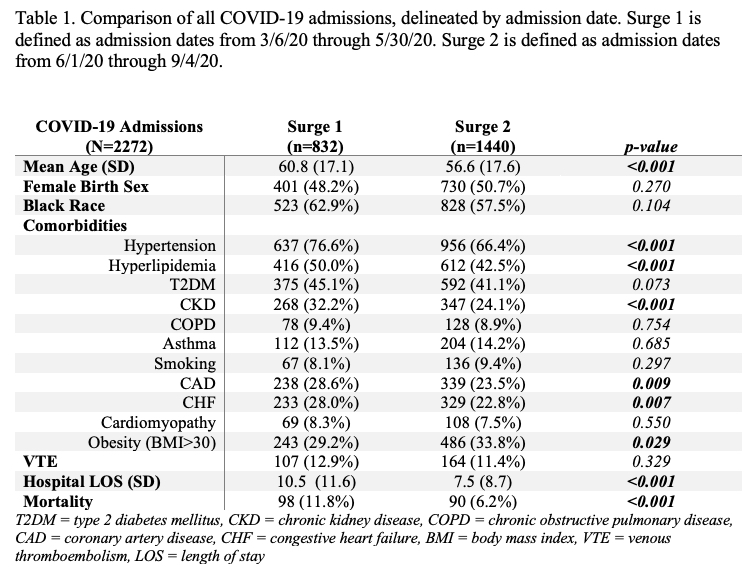 ---
Back to 2021 Abstracts