---
Direct Oral Anticoagulants (doac) Started After Infra-geniculate Bypass Reduces Two-year Mortality, Amputation, And Loss Of Primary Patency When Compared To Warfarin
David P. Ebertz, MD
, Saideep Bose, MD, Justin Smith, Ravi Ambani, MD, Jae Cho, Norma Kumins, MD, Vikram Kashyap, Benjamin Colvard, MD.
University Hospitals - Case Western Reserve University, Cleveland, OH, USA.
OBJECTIVES: Despite numerous studies looking at anti-platelet/anticoagulation regimens after lower-extremity bypass, there has been no consensus on optimal regimen for a particular combination of conduit and target. A 2017 VQI study found that anticoagulation had no effect on primary patency of infra-inguinal bypass grafts but had some benefit in secondary patency of infra-geniculate targets. Clinically, many patients who receive below the knee bypasses are started on anticoagulation, which historically has been with warfarin. However, more and more patients are being discharged on DOACs. The goal of our study is to evaluate whether DOACs are equivalent or superior to warfarin after infra-geniculate bypass.
METHODS: The VQI infra-inguinal bypass database was queried for all anticoagulation naive patients, who underwent an infra-geniculate bypass, and were subsequently discharged on an anticoagulant. A survival analysis was performed after following patients for up to two years to determine whether or not being discharged on warfarin versus a DOAC affected overall mortality, loss of primary patency, or risk of amputation. A multivariate Cox-proportional hazards analysis was performed to help control for differences in important baseline demographic factors between the groups.
RESULTS: Overall, 57,890 patients underwent infra-geniculate bypass. Of these patients, 1,909 were anticoagulation na´ve and discharged on either Coumadin (n=1323) or a DOAC (n=586). Being discharged on a DOAC resulted in a significantly reduced hazard ratio with respect to overall mortality (0.66, CI 0.47-0.92), loss of primary patency (HR 0.75, CI 0.62 - 0.91), or amputation (0.73, 0.71 - 0.90) with a multivariate regression analysis. A separation in improved outcomes begins less than a year after bypass and persists up to 2 years after the initial procedure on Kaplan-Meier analysis (Figure 1).
CONCLUSIONS:Patients who were anticoagulation naive and underwent an infra-geniculate bypass had an unexpected mortality benefit, decrease in amputation, and increased patency when being discharged on a DOAC compared to warfarin. The mechanism for this benefit needs to be better investigated.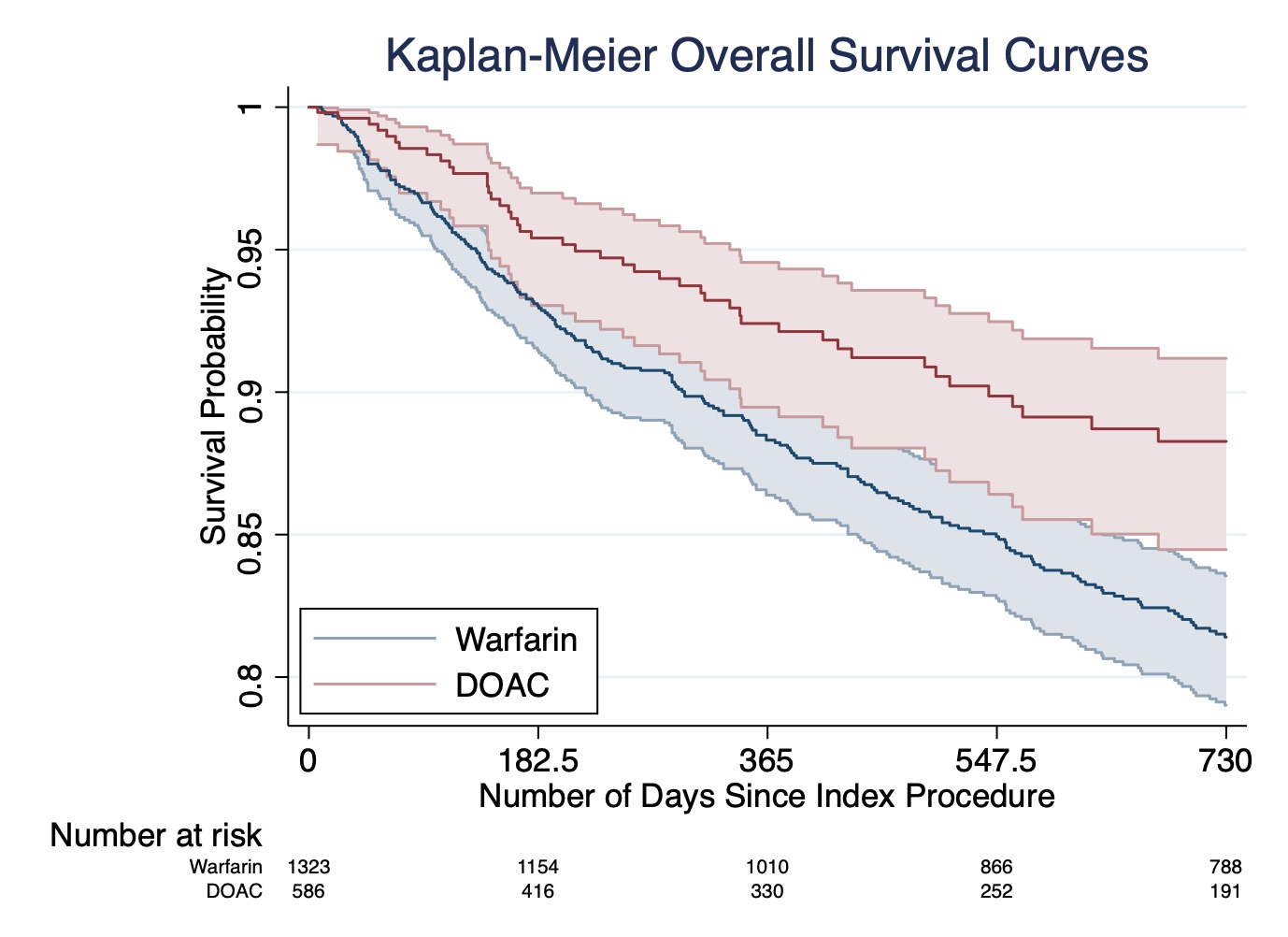 ---
Back to 2022 Abstracts